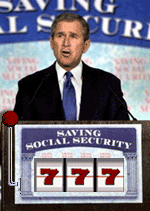 "What goes up must come down."--I call that negative thinking. Investors who pulled out of the NASDAQ stock bubble need to get back their CAN-DO attitude and pour all that $$ back into the market. Capitalism's not for quitters!
That's what my new Social Security plan is for: using the hard-earned savings of working class America to kick-start the action at that grand casino called Wall Street.
Pumping trillions of dollars of America's retirement into the DOW/NASDAQ pyramid scheme--call it Dubyanomics. If J.F.K could put a man on the moon, and Clinton could win most-favored-nation status for China, then damn it, I can create a financial perpetual motion machine...a pyramid scheme that doesn't have to end (at least during my administration)...chain letter wealth that expands forever...
Anyway, if it doesn't work the Fund Managers will always have the option to pull out first, leaving the American people holding the bag. (We'll blame it on the unions or something.) The Bush family has a proven track record of bailing out our fellow millionaires--don't forget S&L.
THINK THIS IS A JOKE? Here's a real quote: "The economic benefits of this infusion of funds into the market will be quite significant." --John Cogan, Bush economic advisor, Financial Times May 16. In other words: Grab your bowls boys!...The Bush government gravy train is coming to town once again!